Conference Management
We have prepared a demo system where you can test Online Registry by yourself. You are welcome to send us a feedback.
You can access our demo system any time at https://nightly.online-registry.net/. First, we recommend you to create a new user account so that you can work with the system undisturbed. By default, you will have the user role and you will be able to access every feature a regular user is allowed to access. If you got interested and want to know more about our system, please contact us. We will then assign you the necessary roles so that you can continue exploring our system.
Video Conference
Online Registry offers the organization of digital conferences. Our solution is hosted on a set of high-end servers and is based on a modified version of Jitsi. By combinding Jitsi with regular video streaming, we can organize a wide variety of meetings, starting from video calls for smaller groups up to a large audience of 5000 participants.
Every video conference is managed by one or more moderators who can assign permissions to every participant of the meeting to share audio, video or desktop screens. Additionally, a moderator has the ability to invite participants who watches the video stream to join the live video conference. Communication works in all directions, by providing moderators of a meeting the ability to create live polls and allowing all participants to respond to these polls. In addition, our video conferencing software provides a chat where participants can communicate with each other. For sharing ideas and working on common tasks, we provide a whiteboard where all meeting participants can collaborate with each other. Additionally, working groups can be divided and sent into separated break-out rooms where they can focus on their respective tasks.
You want to try out our video conferencing solution right now? No Problem! Login at our demo system (see above), then click Start -> Preliminary Program and select one of the available sessions. By default, you will join with the user role to a session. If you got interested, please do not hesitate and contact us so that we can assign you the moderator role on demand. We are looking forward to give you a guided tour and show you in a personal meeting, what our video conferencing solution is capable of.
Mobile App
Besides the online conference management system, Online Registry can be accessed using our mobile app. It allows you to manage your personal schedule when the congress finally takes place. For that, the app is able to show you where you can attend to a session and how you can get there. Additionally informations like number of seats in a room or the available equipment can be provided. A user is also able to rate a presentation in a particular session.
In order to speed up the conference entrance on-site, Online Registry app allows you to access your conference ticket codes. Additionally it is possible to scan tickets of other conference attendees in order to note names so that people can get in contact later. Last but not least, it is possible to get in contact with all users of the app and also with organizers of the conference by using the built-in whiteboard feature.
Plagiarism Detection
Our plagiarim detection service, that is used in Online Registry to check contributions, can also be accessed as external service. It allows you to upload a document or enter some text which will then be analyzed. If the process completes successfully, a detailed report will be provided. Depending on the current work load of the service, the process may take some time to complete. In that case, you can enter your e-mail address so that we can notify you when the report is ready.
The plagiarism detection service can be used for free and we try to be as transparent as possible. While other plagarism detection systems may store your document in their index for future comparisons, the Online Registry plagiarism detection service does not keep any files stored.
You can access the plagiarism detection system via the following link: http://plagcheck.webtek.at/
Alexa Skill
We offer an Alexa Skill that can be used to get information about conferences handled by Online Registry. With that, users could have the following dialog with Alexa: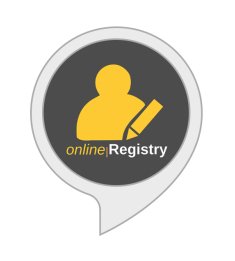 Our Alexa Skill can be installed for free at the Amazon Skill Market.
Resources
If you would like to see Online Registry in action, you can check out our YouTube channel. There you will find some introduction videos where we present Online Registry.